It was an honour to accompany Ingrid Huygens and Kate Abel – both Treaty educators- to Waitangi this year, to help out on their stall on Te Tii Marae.
The Treaty Education stall this year launched the Joan Macdonald Trust Fund, established to honour the memory of our old friend who was so supportive of Treaty education and many other social justice causes and organisations. The fund offers small grants to help with the production of Treaty education resources for community groups.
The stall also provided copies of Ngapuhi Speaks for sale, other Network Waitangi resources, and lots of information about Te Tiriti and He Wakaputanga (the Declaration of Independence of the United Tribes of New Zealand) which preceded the Treaty in 1835.
40,000 summery people – tents and marquees – a flotilla of waka arriving- powerful speeches in the Forum Tent on Te Tii Marae- formal speeches on the national marae up on the official Treaty Grounds – Mere Mangu, the newly elected leader of Ngapuhi, stepping up to speak on the marae for the first time – Rangatiratanga and Independence flags flapping over the crowds, and lining the Waitangi Bridge – food tents galore- children swimming and building sandcastles- teenagers diving from the bridge – overall a peaceful celebration by people of many different cultures gathering to acknowledge our national day.
We found it interesting and positive to engage with visitors to the stall- mostly Maori and Pakeha, but a sprinkling of those from other cultures- all keen to learn more, and glad of the available written resources.
Many were particularly interested in He Wakaputanga, because that was never mentioned in earlier writings by many Pakeha, and rarely in schools.
https://archives.govt.nz/discover-our-stories/the-declaration-of-independence-of-new-zealand
Indeed, many outside Ngapuhi have only begun to understand its significance since the Waitangi Tribunal hearings around the Ngapuhi rohe. We spent a couple of days at those hearings, held from May 2010 to February 2011, which were documented in Ngapuhi Speaks: He Wakaputanga and Te Tiriti O Waitangi.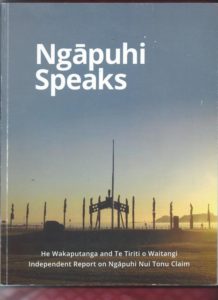 This report was written by an independent panel comprising Ingrid Huygens, Susan Healy and Takawai Murphy who attended the hearings, and published by Te Kawariki and Network Waitangi in 2012.
Copies are available from Network Waitangi in Whangarei and Otautahi (Christchurch):
https://nwwhangarei.wordpress.com/
While we were at Waitangi, we also enjoyed some of the speakers in the Forum Tent on the Te Tii grounds- especially Te Apa Mareikura: a panel of six amazing women, beginning with 71-year-old Donna Awatere-Huata,and including Hilda Halkyard Harawira, Kiritapu Allan-Coates, Keri Milne-Ihimaera, Kahurangi Milne, and ending with Pania Newton. What an array of wonderful, strong, thought-provoking women…
Donna challenged those listening to her to join the Ihumatao Protectors on their march to the Treaty Grounds, so Tanya did, supporting Pania Newton and the other Protectors in their stand for justice for the land at Ihumatao and its people – a powerful, peaceful march of Protectors, not merely protesters.