Before the outbreak of Covid-19, we had the good fortune to engage in a range of stimulating and challenging events around Tamaki Makauraru,
Kelmarna Gardens Trust put on a fundraising dinner, in the gardens, in cooperation with Forest and Ozone Cafés – a feast of fruit, vegetables and herbs picked from the gardens, prepared and served by the gracious restaurant staff.
Oliver Sutherland has been known for many years as the founder of ACORD (Auckland Committee On Racial Discrimination) and a tireless worker for social justice, especially a fair deal for children in social welfare care and the justice system, and for Maori and Pacific people in all aspects of their lives. He has just published a book , Justice and Race:campaigns against racism and abuse in Aotearoa, and we were at its Auckland launching in the Auckland Central Library.
Great to catch up with some of the activists from different cultural and organisational backgrounds , many of them honoured in the book for their work in the late 1970s and 1980s to challenge the racism and downright cruelty of government systems and practices then…and still..and to meet one of the survivors of Lake Alice Psychiatric Hospital near Wanganui.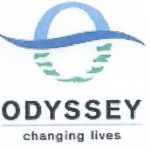 Odyssey House was established in Auckland in 1980 to provide support and treatment for those seeking to recover from alcohol and/or drug addiction. Initially one house in Mount Eden Road used as a residential treatment centre for a small number of clients, now, Odyssey in Auckland is an extensive programme of activities for addicts and family members, involving eight premises around the city, two hundred trained staff, and a wide range of activities to support whaiora (those seeking health) .
Their March staff meeting was a special celebration for Odyssey's accreditation for the first level of the Rainbow Tick project. It was held in the Odyssey Café, a social enterprise within the Odyssey headquarters in Great North Road, and part of the programme. The speakers were Julie Watson (from Rainbow Tick), Theresa Peters (Senior Advisor, Inclusion and Diversity, and chair of the Rainbow Network, from the Department of Corrections), Sarah Watkins (a brave young woman who has recently become an Odysssey staff member), and Charmaine.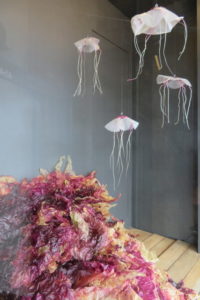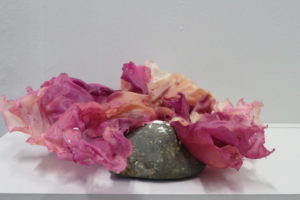 We've mentioned Mokopōpaki before- an exciting fringe gallery at 454 Karangahape Road. We went on Wednesday 11 th to the opening of an exhibition there called "Ebb", of beautiful pink and crimson Hokianga seaweed sculptures by Denise Batchelor, and translucent hanging jellyfish (made from recycled plastic) by Maureen Lander. Do look in the window of Mokopōpaki as you pass- and better still, go in and enjoy the whole exhibition .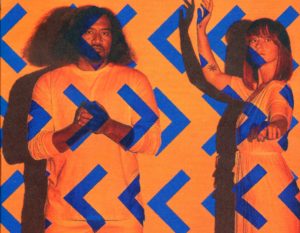 We went to the wonderful Upu , a theatrical poetry event which gave voice to the poems of a powerful group of Maori and Pasifika men and women.
A talented group of Maori and Pasifika women and men expressed through voice and movement their rage, tenderness, humour and pain about the impact of colonisation in Aotearoa and the Pacific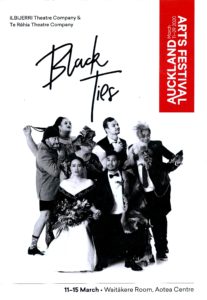 We also went to Black Ties– the first ever Maori-Aboriginal collaborative drama – about the marriage of a Maori woman to an Aboriginal man. Very funny in the first half as the two families meet for the first time.
When we returned after the interval the room was transformed into a dining room with wedding breakfast settings – place cards, sweets and rewana bread on each table . During the wedding speeches, there were some darker moments, some tender ones, some very funny and some very moving. Altogether this play was a very entertaining – and challenging – political statement about the issues faced by indigenous people in both Aotearoa and Australia.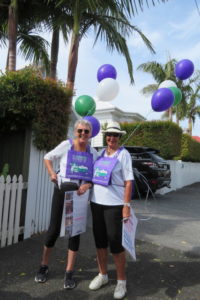 The Pride Parade on Saturday 29 February, last event in the Pride Festival, was a cheerful and colourful affair- walking groups only, representing a range of people in the rainbow community. We took part in the parade along Ponsonby Road as members of the Women's Bookshop group- mainly lesbians readers and the bookshop staff– with our purple, green and white balloons and enlarged book covers to remind the cheerful audience lining Ponsonby Road of the wealth of fine reading available from Carole Beu's shop.
After dinner with Carole at the cafe next to her bookshop we strolled along to hear the Topp Twins performing , with an audience of enthusiastic lesbians and many others. Linda and Jules inveigled several women up onto the stage with them, to talk about their lives- a teenager, a butch dyke, a dyke with a dog, and Charmaine- who suddenly found she was being hauled up as an older dyke and being celebrated for heading AGGS, referred to by Linda Topp as a "finishing school for lesbians" ..("Noone mentioned it 's 30 years since I left! "c.p. says.)
We were so lucky to pack in this amazing array of multicultural events in late February and March.
All bookings for future live cultural activities and shows in Aotearoa have been cancelled because of the spread of Covid-19.
It will be extremely difficult for all artists, performers, musicians and venue managers in Aotearoa until the emergency is over- we hope many will make good use of social media, and develop new ways in which we can enjoy their work and support them during this difficult time.