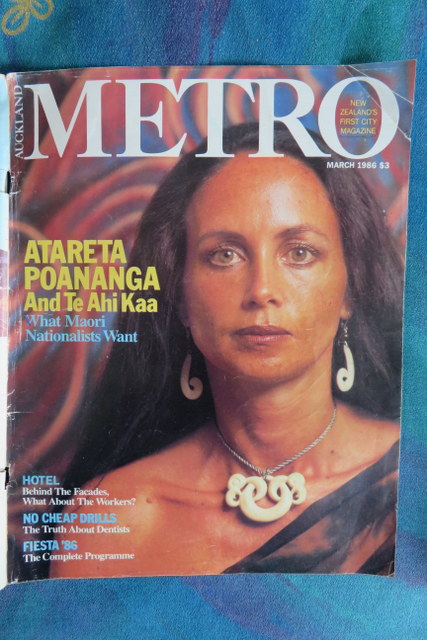 We were both saddened to read of Atareta's recent death.
Here is a letter of thanks from Tanya to Moana Maniapoto, well-known NZ musician, lawyer and powerful social justice advocate, expressing gratitude for her tribute to the late Atareta Poananga, wahine toa no Ngati Porou, Ngati Rangitane…
Kia ora Moana,
I want to thank you very much for your tribute to Atareta Poananga – both on RNZ's Jessie Mulligan program on Tuesday afternoon and later the short video which you posted. It was a beautiful tribute for a stunning and powerful wahine toa.
I was devastated when I first read the stark little NZ Herald obituary for Atareta. But your acknowledgement of her amazing strengths and her flaws helped me come to terms with her sad death.
I knew Atareta in the early 1980s when I was a part of a group of DSW women staff, mainly Pakeha, doing a research project on Institutional Racism in the Department of Social Welfare.. She, along with Titewhai Harawira and others, agreed to form a Maori consultative committee for our research group. We found the clarity of her mind and the searching nature of her questions, plus her razor sharp political analysis, both challenging (sometimes scary) and helpful.
And I also experienced her warmth when she offered me support later when my job in the department was being challenged.
I have just reread the in-depth Metro article of March 1986, written by Nicola Legat, about Te Ahi Kaa and Maori Nationalism, including a profile of Atareta. She was and remains a beacon of light and courage in the fight for justice in Aotearoa.
Okioki mai ra i te waimarie, e te māreikura.
Here are the tributes from Moana Maniapoto:
Interview with Jessie Mulligan –
https://drive.google.com/open?id=1HWjnn2AciOdsU_5b2mWCFpDAH7oopOaH
Short Video –
https://drive.google.com/open?id=13MkXC4k6MsgyKp_R38vxYUsoUG8YwLHA