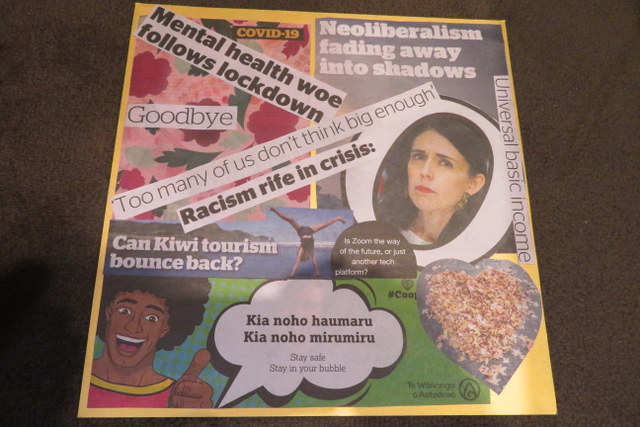 We are very glad to be now in Level 2 of the Rahui. We were in Level 4 (total lockdown) for 5 weeks from 26 March, then in Level 3 for 2 weeks from 28 April to 14 May. Now, in Level 2, we are able to socialise more freely (in small numbers, and keeping our physical distance still), travel further around Aotearoa, and many businesses have been able to re-open. But we are very aware of the need for on-going vigilance, and for maintaining a low footprint on our precious earth.
We remain deeply thankful for Prime Minister Jacinda Ardern's leadership through this crisis. And we are especially impressed by the way Maori iwi and hapu have expressed their rangatiratanga and organised manakitanga for their own people and others.
However, we are dismayed by the fact that Maori leaders were not visible in front-line decision-making, alongside Jacinda, Ashleigh Bloomfield , Director-General of Health, and a wider Pakeha team . Hopefully she has learnt from this omission and will include our Treaty partners from the beginning in further decision-making and announcements.
On Thursday 14 March Minister of Finance Grant Robertson presented a generous and broadly-based $50 billion dollar budget last week (most of it on loan, of course), including specific resources for some Maori-led developments. Not all businesses (especially in tourism, hospitality and international travel and education) will survive their disastrous losses of income over the last two months, in spite of considerable government support. Undoubtedly our country is in for a tough time for the next few years.
Here in Aotearoa, as in many other countries, there are increasing calls for learning to live differently from the wasteful and unequal ways which have predominated in the Western world from the 1980s on: think Maggie Thatcher in the UK, Ronald Reagan in the USA, and in Aotearoa Rogernomics (1984-90) and Ruthanasia (1990-93) and their disastrous – and continuing – multi-generational impact on New Zealand society.
One of the effects of the Covid epidemic and the lockdowns it brings is the time to read some of the outstanding journalism about our world and its possible futures.
The Earth Day 50th Anniversary special issue of National Geographic is in two parts:
HOW WE LOST THE PLANET, and HOW WE SAVED THE WORLD–
two contrasting visions of possible futures- what could happen to life on Earth between now and 2070.
In the excellent May-June issue of New Zealand Geographic, the article OUR NEW FUTURE (pp36 on) by Rebekah White and her team is outstanding. This magazine is the sole surviving high-quality New Zealand magazine since Bauer Media dumped its whole stable just as the Covid epidemic hit.
Our favourite writer for the New Zealand Herald, Simon Wilson, has published an exceptional series , SIMON WILSON'S PANDEMIC DIARY, which is funny, angry, moving, and well-researched , sometimes all at once. Here's a link to his final in the series: