On 22 June we took off to the South Island for 10 days, to catch up with friends and explore an area we hadn't visited for some years- Whakatū (Nelson) and Mohua (Golden Bay). Of course, we were doing our patriotic duty too, at PM Jacinda's suggestion, supporting AirNZ and a range of small businesses emerging from Covid lockdowns!
Our home In Nelson was a funky, quiet and comfortable AirBnB- Sally's Art Gallery, behind her Scandinavian furniture workshop in Nile Street West, just around the corner from the restored historic 1860s cottages in South Street.
On our first evening , as we were out walking, Tanya saw an old intermediate-school friend, Margot Hannigan, riding her bike , called out to her, and she stopped to talk. It emerged that her partner Eddie of 45 years had died during the Lockdown. So we spent some time with Margot, catching up with her adventurous life, and the deep loss of her partner.
On our first full day in Nelson we lunched with our dear friend, artist Nic Moon, who gave us guidance on cafes and places to visit around the city. We walked to the top of the hill labelled "The Centre of New Zealand" – a well-kept steep track through native bush, leading to splendid views of the city and the port.
We spent time walking around the city, enjoying the old buildings and placid pace of the city, and visiting the Suter Art Gallery and the famous Volume Bookshop.
Two afternoon teas with two lovely young families we knew from Auckland were a delight. Nadine (daughter of Tanya's old friend Janfrie) and Darren and their three children moved to Nelson early this year for Darren to take up the position as Regional Manager of NIWA in the area, and Jenny and Andy and their two children were our neighbours at Earthsong. Both families have settled well, and are enjoying their lives.
We had beautiful fine cold weather for our whole stay in Nelson – glad of multiple merinos and jackets!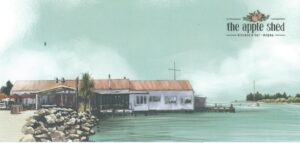 On the morning of 25 June we set off for Golden Bay via Mapua, where we enjoyed a coffee at The Apple Shed Cafe and a visit to Kēreru Gallery.
Here we found a stunningly colourful collection of paintings, sculptures and multi-media creations, some by owner Karen Walters, and jewellery by co-owner and husband Mike Walters. We came away with a set of flowers (handmade from died cable-ties) to ornament our apartment…