After our stop at Mapua we drove over Tākaka Hill to Tākaka township, which still has a distinctively 'alternative' atmosphere, with its gentle pace, organic shops and old-style hippy culture. Tākaka obviously also continues to have a strong community focus, and a more modern political focus too – a clear Black Lives Matter statement on the old bank building in the main street.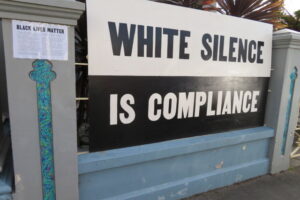 We arrived mid-afternoon at the Pohara Beach Motel, where we had an immaculate, cosy beachfront unit where we could sit in bed and watch the sunrise, and the tides come and go. We walked daily on the beach and local paths. Too cold to swim, though! Indeed, on our last morning there was a scattering of snow on the surrounding mountain range.
Less than 10 minutes drive from Tākaka, Pohara was an ideal base also for exploring many other interesting parts of Golden Bay. Along the coast east to Ligar Bay, Tata Beach and Wainui, north-west to Rangihaeata, Paton's Rock and Onekaka.
On the way back from Onekaka we stopped for dinner at the famous Mussel Inn, where one of the staff, Nigel, recognised Charmaine and reminded her he used to be the Waste Management officer for the Franklin District Council. He joined us for a chat, and invited us to come for a cuppa with him when we got to Collingwood the next day, where he has been living for five years, and built his own house.
On Monday 29 June we linked up with Nic where she has a caravan on a friend's land at Tukurua Bay. We explored Collingwood township and beach with her, enjoyed morning tea at the Courthouse Cafe, then drove inland to Bainham, to the famous Langford's General Store. Such a treasure-trove …books, crockery, kitchen appliances, old food storage containers, vases, cushions…anything you might need from the last hundred years, it seemed..and a good coffee and scones, too!
http://www.theprow.org.nz/yourstory/bainham-general-store/#.XxKFZVUzbIU
We drove back to Nic's caravan, and went next door to the home of her friend Clare for a dinner of fresh fish and an evening of talk about life in Golden Bay, then home to our Pohara cottage.
Next morning we packed up, lunched in Takaka at the delicious Dangerous Kitchen, and drove back over the Takaka Hill for a final holiday night at Kimiora EcoResort, a lovely place with hot and cold pools, a fitness centre, walkways, and a vegetarian cafe, on the hillside above Kaiteriteri Beach..
Then back to Nelson and homeward bound, the next day, with stunning views of Farewell Spit from the plane.