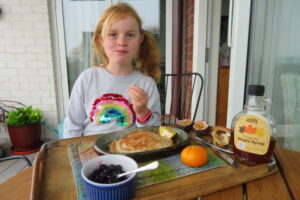 We look forward to school holidays because we get to be kids again for a few days! Two of our favourite young ones come for overnight stays in our apartment- Ellie, aged 8 (Tanya's grand-niece) and Taiga aged 10 (our Japanese neighbour from Earthsong days).
With each of them, we look at what's on downtown, then hop on a bus (double-decker if we're lucky) and participate in whatever takes their fancy.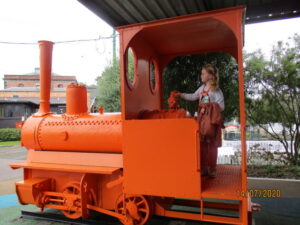 Ellie chose a swim at the Tepid Baths, exploring the Matariki Maze in Aotea Square, and back at home here we gathered leaves and flowers from nearby to preserve in her new flower press. We had an evening of poems and stories, and the next morning a MOTAT adventure, including trying out train driving, and making a cardboard rocket that flew.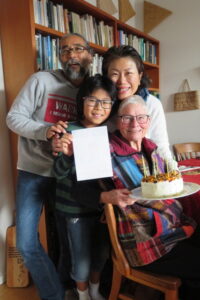 Taiga arrived with a beautiful cake made by his mum and dad, Tomoko and Manabu, for Charmaine's birthday, so after indulging in that we headed off on the bus, strolled along Karangahape Road and then down through St Kevin's Arcade and Myer's Park to the Auckland Art Gallery. There he joined other children in a project creating 1000 paper cranes for a future installation.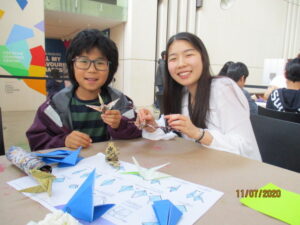 Then we explored the exquisite Japanese exhibition, Enchanted Worlds, from the EDO era:
Enchanted Worlds: Hokusai, Hiroshige and the Art of Edo Japan includes more than 70 paintings sourced from private art collections. Including delicate silk paintings, precious scrolls, folding screens and vibrant woodblock prints, this exhibition explores the wonder, mystery and enduring popularity of art from this period.

https://virtual.aucklandartgallery.com/
In the evening we went to the exhuberant dance show, "Salty", at the Aotea Centre- created during Covid lockdown by the youthful group Massive Nui Ensemble.
When we're home, we often take meals upstairs to the community deck/lounge – a popular choice for the young ones.
So it's good fun all round. And we collapse exhausted but exhilarated after they return to their homes!