Tanya's 75th birthday
We managed special outings for Tanya's birthday-she turned 75 on Sunday 16 August.
On her birthday, we climbed her childhood maunga, Ohinerau (goddess of whirlwinds), previously known as Mount Hobson, with magnificent 360 degree views over Tāmaki Makaurau and the two harbours.
We also discovered the newish walkway (previously a wild impenetrable jungle) which follows the valley, parallel to Victoria Avenue, from Waiata Reserve to Combes Road, where the Cumberlands spent their childhood days. Then we went home for Tanya's favourite lunch of egg sandwiches and fresh salad.
What more does a 75-year old need!
A Cumberland Whanau Dinner..
Tanya also had a lovely family birthday dinner a week earlier at the Devonport home of nephew Barney and Jo and their daughter Ellie, with brother Garth and Viv, and Charmaine. And here's Garth's candid photo of his lively, lovely,wrinkly sister!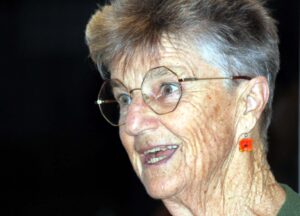 A serenade?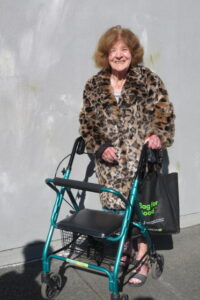 On the morning of Tanya's birthday, just after we'd finished our breakfast in bed, we heard beautiful singing which seemed to be coming from outside St Columba Church nearby. We raced downstairs , expecting to find a women's choir in full voice outside the church. To our surprise, we met one elderly woman with a walking frame, in full voice, outside the blank wall of Burgerfuel, next door. Her rich voice echoed in the street between the two large apartment blocks.
When she paused, we tried to learn something about her- her name is "Mrs Field" or similar, she's lost her husband, she's 90 years old, she learnt/taught singing for much of her life, she used to be in the St Columba choir, she lives along the road in a flat, she'd gone to church that morning but there was noone there, so she decided to sing anyway! and she was very happy for us to take a photo of her…then she sang us another song…
Know Your Place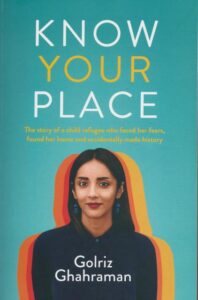 Golriz Gharaman, a Green Party Member of Parliament, has written the story of her life as a child in Iran, her family's escape to New Zealand as refugees and settling here, her studies and work in law both here and in international law overseas, and her first term as a Green Party Member of Parliament, the first refugee to be elected to Parliament in New Zealand .
We went to the Women's Bookshop to hear Golriz talk at the launching of her book, Know Your Place. She is a strong and fearless writer, and we were moved by her reading – a description of some of the challenges faced by her parents in adapting to life here. The book covers aspects of her life right up to the present, including the horrifying abuse she has experienced here as a woman of colour, and a refugee.
Rather than describe the book further, we'll just say that all New Zealanders concerned for our future as a nation will be moved by it, and learn from it.
Gutsy Girls Adventures Film Tour: at Sky City Theatre and throughout the country
5th in a series, this lively collection of short films was about women exploring the world in a variety of challenging and exciting ways, from climbing impossible mountains and riding bikes across continents to taking up deep sea diving to recover from horrendous injuries suffered when paragliding from a mountain…
One of the most moving stories was that of the young Ugandan woman living in the slums who has become a top boxer in her country, but isn't able to go to the Olympic Games to represent her country- because she's a woman…
Totally recommend these films as entertainment – a challenge (if not an inspiration!!) for all women!