Bubbah at the Basement Theatre…
Our first theatre outing after Covid Lockdown was a Basement Theatre production: Bubbah: My Ode to South Auckland, described as "South Auckland stories by South Auckland people", written by Bubbah in her garage with her team of Maori and Pasifika mates, describing life as it happens in their 'hood – raw, energetic, dark, challenging, funny, sad- a solo performance with some additions, including a session with a "naughty 6-year-old cuzzie" who taught the mainly brown audience some rap movements, and a dance by a bunch of hooded rappers.
Te Wiki o te Mahi Toi i Tāmaki Makaurau: Auckland Artweek 10-18 October 2020
Hundreds of galleries, walks, heritage visits, musical events, street installations, performance artists and more..
From 10-18 October Auckland City has been rich with visual art exhibitions and activities. 2020 marks the 10th year of this festival.
We took ourselves out for the evening of Late Night Art in the Central City area, where streets were closed to cars, and we were delighted by the variety of events. We specially enjoyed:
…public light sculptures and installations …
…street performers, especially the wandering Flowerpot Mother …
and the stunning Afrobeats dancer DJ ORIKoL..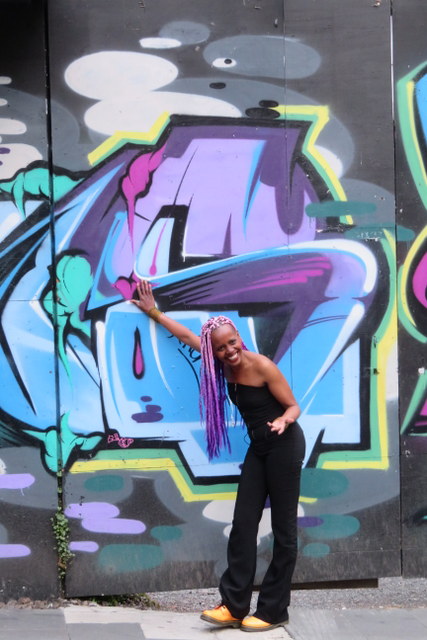 And then another special – very different – event this month:
Lil O'Brien at Garnet Station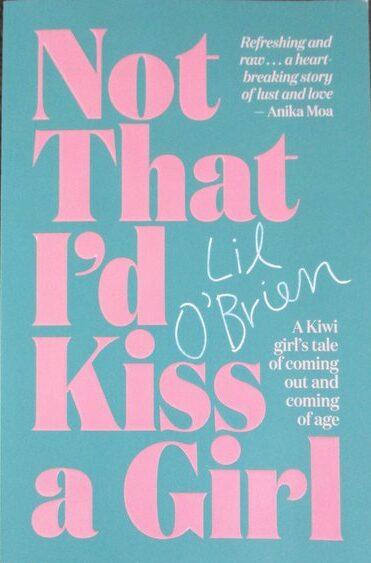 Garnet Station's Little Theatre was the venue for Lil O'Brien to talk at the October ALBA (Auckland Lesbian Business Association) meeting about her recently published autobiography Not that I'd Kiss a Girl. She told us she has written the book that she wishes had been available to her when she came out as a 19-year-old…
Her story of self-discovery and of coming out to her family is moving, sad, and joyful- such a brave young woman. Many of us older lesbians there no doubt silently identified with her very funny account of trying to find library books about being lesbian without being noticed by other readers or staff, and many, too, identified with her honesty about family difficulties and rejection, as well as the importance of staunch supportive friends. We admire her courage, and we're both looking forward to reading the book.