Save Canal Road Native Trees…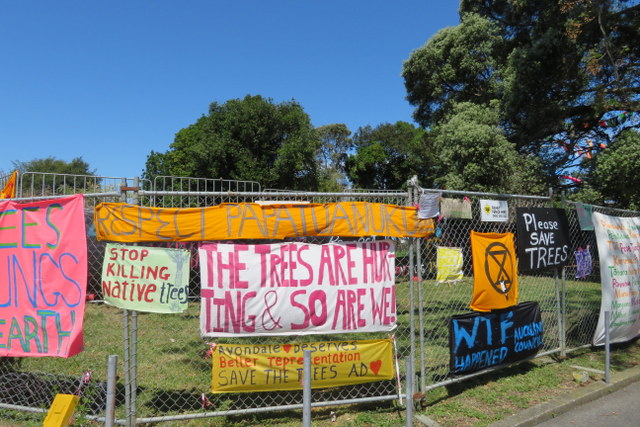 For more than 100 days now, protesters have been occupying a property in Canal Road , Avondale, to prevent the felling by a property developer of the remaining twenty-three 100-year-old native trees.
The surviving trees include rare natives like black maire and kawaka; half the trees which grew on the site had already been felled before awareness spread about the approved vandalism. The "Save Canal Road Native Trees" protestors sprang into action, encircling the site and stopping the loggers from removing the remaining mature trees. Several arborists have built suspended platforms in the treetops, so the site is now occupied day and night.
The protestors believe that Auckland City council should buy the land and make it a park to preserve these special trees, many of them the only ones of this size, age and species left in Auckland. Avondale is a lower socioeconomic suburb undergoing dramatic change with the building of large apartment blocks, so creating reserves and protecting trees is especially important.
Tragically, Auckland has lost a third of its big trees since the National Party government changed the Resource Management Act in 2012 to scrap blanket tree protection rules. This new government must, as a matter of urgency, reinstate legislation to protect large, historic native trees.
When the protest group marched to to the Auckland Council office, the Council indicated that they could not help the group. So the group is pursuing negotiations with other significant organisations.