A World Away i te Nota (in the North)
Our big adventure this month has been a six-day holiday in Tai Tokerau (Northland). Most of our exploring was around Te Hokianga-nui-a-Kupe, the birthplace of Aotearoa – one of the very oldest areas of settlement by the Pasifika voyagers who were to become tangata whenua.
It's only a five-hour car journey from Tamaki Makaurau , but a world away in people and stories. If you look at a map of the North Island, you'll see only two towns in Northland with Pakeha names – Dargaville and Russell – all the rest have Maori names- a reflection of the long history of continuing Maori presence in the area since the arrival of Kupe around 925AD.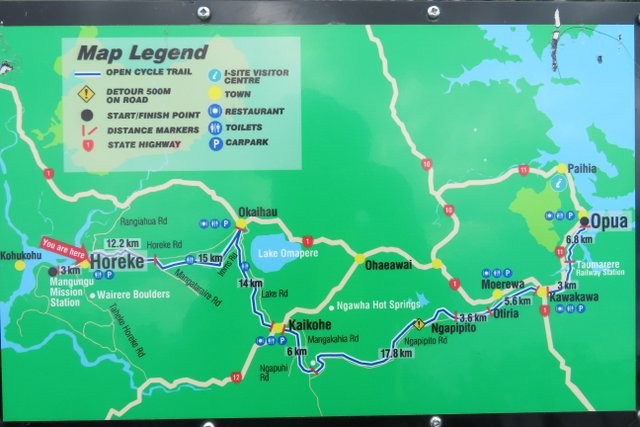 Our first stay was in Kaikohe (originally Kaikohekohe) , where we lunched and dined at the Left Bank Cafe, the restored 1860s BNZ which is lovely for ambience, service and food. There we met Diane Maxwell, co-owner with her husband Jack Poutsma, who has worked with a local social enterprise, the Far North Resilient Communities Charitable Trust, to prepare a most exciting business plan for community development and financial growth called RE-STORE KAIKOHE.
Already, in spite of the effects of long-term government neglect until recent years, and Covid isolation and lockdowns this year, there are many signs of the vitality of this community, like wonderful more-than-life-size murals of local identities; and lots of cheerful and friendly local people, mainly Maori.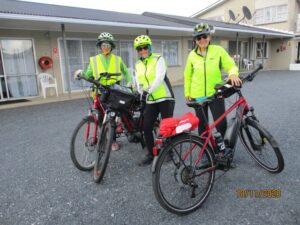 The next morning Tanya set off with friends Annette and Steph from Whangarei Heads to ride half of the Twin Coast Cycleway , from Kaikohe to Horeke on the south coast of the Hokianga Harbour – an exhilarating ride, with great interpretive signs telling both Maori and Pakeha history…
…and finishing with a board walk over coastal sedges and through mangroves to Horeke.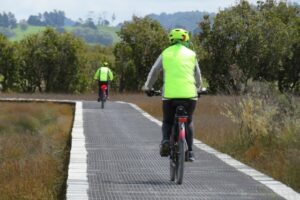 Charmaine drove over, and was waiting to greet them when they arrived at historic 186-year-old Horeke Hotel on the water's edge..
We fell in love with Horeke, enjoying the changing harbour tides and the wide vista through the big windows in our upstairs bedroom.
We specially enjoyed chatting with local women. Close to the hotel, also on the water's edge, was an old boatshed transformed into a tiny shop painted bright pink – Horeke Creations– – a new development by a kuia and her whanau to sell crafts – especially flax items and knitted ones – and local produce. Next door, young people are restoring a tribal waka and the boat shed which shelters it.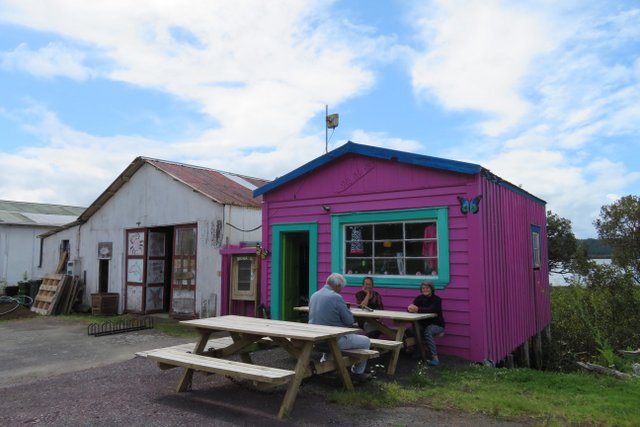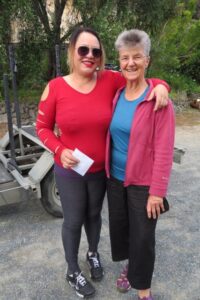 We also had a stimulating couple of hours with a staunch local kuia, Anahera Eruera, a leader in a hapū whose people refuse to pay rates or to apply for government funding, and are experimenting with earth building and alternative energy sources on their land as steps towards establishing their own independent nation state around Hokianga in the future.
Anahera's bold visions and amazing self-confidence are inspiring. She is also an installation artist, currently turning her own home into an art work- painted panels attached to the interior walls, and images directly painted on floor and ceiling, telling the story of her iwi and their visions for the future.
On our second day in Horeke we visited the Wairere Boulders, following a walkway up and around these unique giant fluted volcanic basalt rocks, carved over millenia by rainfall and acid from ancient kauri tree roots and soil. Great to see this area, unique in the world, so lovingly cared for by successive families and made available to the public.
Heather is working with a wide range of people on an exciting local project coming up next March, and involving the projecting of images onto the sand dunes across the harbour.
Heather took us over to Kohukohu to Village Arts Galllery, where she currently has an amazing exhibition of digital works based on her photography in Fiordland.
See http://www.villagearts.co.nz/
We left Omapere on Saturday morning after a wonderful holiday, carrying one of Heather's beautiful – and highly political- photographic creations to complement the one we bought from her last time we stayed there, and enriched by her sharing of knowledge and experience as well as by the beauty and history of the Hokianga surroundings. Here's a quick glimpse…it's being framed at present..
And we knew we'd arrived home when we heard the traffic noise, and then the speed-car racing roar in the evening from Western Springs! Plus a few bangs and flashes from remnant fireworks too, of course.