Before our Northland journey, we'd had a rather busy month – a mix, as usual, of supporting NZ drama, films, music and books, indulging and learning…as well as gardening (Tanya) and Isaac Body Corp Owners' Committee (Charmaine)
Three very different films:
Rose Matafeo's Baby Done – a riotously funny journey with a top woman arborist desperately wanting to compete internationally, and her devoted partner trying to protect her and the forthcoming baby…
I Am Woman, which was a rather disappointing and superficial account of Helen Reddy's adult life , until the last quarter or so where her feminism began to shine through..
The Trial of the Chicago Seven, which was a powerful portrayal of a corrupt and incompetent judge, the moral issues among anti-Vietnam-War protest leadership, and the ultimate triumph of justice..
Music:
We enjoyed a cheerful, fun-filled evening of lively music with "The Nukes" – a group of three musicians, one of whom, Dave Parker, we know through our Te Reo group. They were playing at the Freida Margolis Wine Bar , just 5 minutes down Richmond Road from our place. We really enjoyed their original and unique songs and energetic ukulele-guitar-percussion playing. See https://www.thenukes.co.nz/bio
Food for Mind and Body: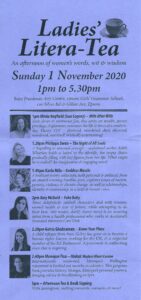 Ladies Literatea at EGGS,
Carole Beu – on crutches because of her recent hip operation, but unhindered in knowledge, enthusiasm and flair – compered another delicious event : a great variety of local woman writers, and a superb afternoon tea The outstanding presenters for us were Karlo Mila, reading from her latest and very powerful poetry collection Goddess Muscle, and Monique Fiso's account of writing Hiakai: Modern Maori Cuisine,about the Wellington restaurant she has established, which is now booked out months ahead.
Ahi Kōmau Festival at Papatūānuku Marae, Mangere

This was a celebration of indigenous culture through sustainable, healthy local kai- prepared using hangi, umu, mataahi (spit), auahi (smoked ) and flame-grilled delicacies, followed by music and dance from Maori and Pasifika groups.
The evening finished with a light show "Origins of Fire" projected on a row of tall exotic pines at the rear of the marae, telling the story, with sound commentary, of the creation of the world and its people, and the discovery of fire.
Congratulations to Lionel Hotere and partner Valerie for creating this new festival in Mangere, with the help of whanau, wwoofers and community.