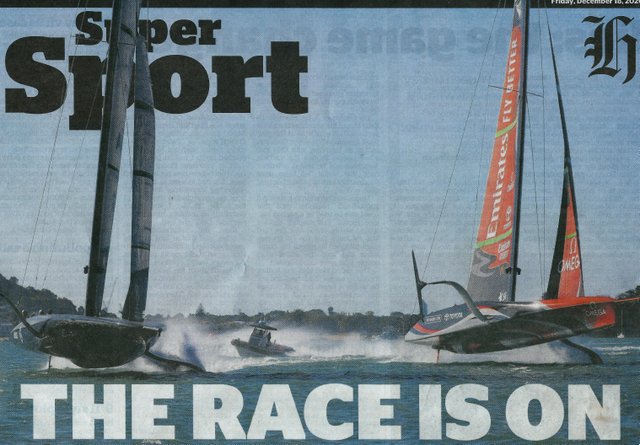 We are doing our best to ignore all the fuss currently going on in Auckland surrounding the America's Cup. And the costs… the Government is paying more than $136 million and Auckland Council almost $99 million…and for what? A few bizarre-looking 'boats' trying to fly on the Waitematā Harbour…
Chris Rattue, in his excellent article, 5 Burning Questions, in the NZ Herald writes (in response to Question 4: How does Auckland look as a venue?) :
With so many social issues- particularly housing and renting costs- and major transport projects to pay for, it is very hard to keep justifying spending rate and taxpayer money on a one-sided, elitist sports event…
Chris's full response to the 8 critical questions put to him is worth reading

https://www.nzherald.co.nz/author/chris-rattue/

However, pictures in the papers and on TV show that lots of people
flock to high points to watch this strange contest…
Tanya's dear brother Garth, like many Aucklanders, is celebrating the event, by keenly inviting all his ex Grammar and Massey friends to come to his home on the lower slopes of Maungauika (North Head, Devonport) to watch the races. Tanya and I, to his probable relief, will not be joining them!
Give us a local Bike Burb and cycle trails any day! And $235 million or more to support worthy causes like the Otara Bike Burb, or other such exciting new community-led developments. And imagine the enlivening effect on communities if even half the 50,000+ active sporting, cultural and well-being community groups in the country received a grant of $10,000 each…