ALBA – an Octagenarian cyclist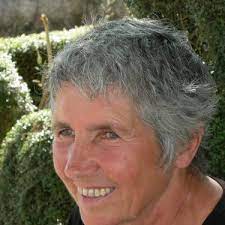 ALBA, the Auckland Lesbian Business Association, had as its guest speaker on Wednesday 10th March a very special woman – Jill Lundmark, who has, for the last 13 years, until Covid Lockdowns stopped her, taken her bicycle and gone overseas for 3 months of every year, exploring new places each time. All that after a career involving, among many other things, raising a family, poultry care, teaching, and writing text books on technology teaching in schools…
Jill shared some of her adventures, and positive interactions on her cycle journeys with women from a wide range of different cultures. At 83 years old, she is an inspiration to those of us who enjoy cycling, and exploring, in new places!
And on two consecutive nights we saw two special films about women.. .
Cousins (based on the novel by Patricia Grace) is showing around Auckland in March, and is a depiction of the effects of forced adoption on a young Maori girl, and her alienation from her whānau and her culture. Three girl cousins are the stars of the story, each played by three different actors for different times in their lives. The adopted girl, Mata, is played as a woman especially powerfully by Tanea Heke . A very moving experience.
The next night we went to a one-off preview of a new film, Revolt She Said made by Louise Lever. Here's a synopsis:
Revolt She Said captures a portrait of contemporary feminism, featuring key figures including Helen Clark (the former PM of New Zealand), journalist Alison Mau, Singer Lizzie Marvelley, leading academic Dr Pani Farvid, Aboriginal leader Dr Jackie Huggins and writers Quinn Eades and Courtney Sina Meredith.
Sadly, there are no contributions in the film by powerful Māori women with strong views on feminist issues, other than Lizzie Marvelly. Louise told us that is because she made most of the film while she was in Australia. However, otherwise an appropriate outing for International Women's Day.