Ki Tau Ki Tai – from ridge to sea –
Tanya's story of a guided cycling tour based around water landmarks in Tāmaki Makaurau
27 February 2021
————————————————————————
Ki Tau Ki Tai – from Ridge to sea – a guided cycling tour through central Tāmaki Makaurau – organised by Auckland Libraries in partnership with kaupapa māori group 'Whakamanatia'
On Sat 27th Feb., one day before our latest Covid Lockdown, I joined a group of curious cyclists on Karangahape Road on a journey to explore how water features have shaped the lives of people in central Auckland. The journey was lead by Māori story tellers , Grayson Goffe and Whaea Robyn together with Sean Taylor, Librarian (Activation- Unique Experiences) on the electric 'Kōrero Bike', which is equipped with an electronic screen for relaying extra information.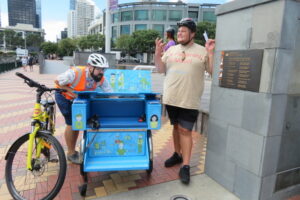 "E kato ana ngā awa katoa ki te moana" – all rivers lead to the sea.
Before setting off on our cycle journey, after completing the mihimihi, we were introduced to Hape , a great chief of the Tainui iwi, by a descendant of Hape, Te Pua Waitanga. She told us the story of Hape, who had a club foot, and because of this disability was left behind in Hawaiki when the Tainui waka set sail . But he used his power to summon a large stingray to transport him to Aotearoa, and arrived in Aotearoa before the waka arrived. He stood on a hill and sang out a karanga to those arriving on the beach. Hence the name of Karanga a Hape Road, which runs along the ridge above the central city.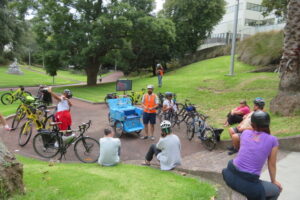 From the ridge we followed the route of the former Wai Horotiu Stream (now buried but still flowing) ) which used to run through the valley that Queen Street was built on. In Myers Park there is a Hone Tuwhare poem in the new paddling pool, acknowledging the taniwha(water spirit) Horotiu : "Stop your snivelling Horotiu, come rain, hail and floodwater, laugh again."
On arriving Downtown , in Fort Street West, we came across Moana-Whenua, an art work by Wayne Youle, carved into the granite of the pavement, which is the demarcation line of the original foreshore where moana and whenua once met shoreline of the early town.
Similarly, in the Wynyard Quarter, which was redeveloped in 1999, elements of cultural significance to Ngāti Whātua o Orākei were included, like the Pātiki design on the coastal pathways – a symbol of plentiful times and forward progression.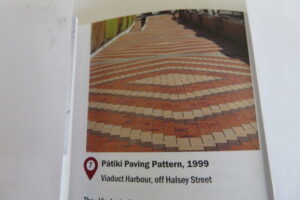 And in Tīramarama Walkway (meaning the glimmer/to light the way), well known Māori artist, Lisa Reihana, has designed a series of purposeful puddles which rise and fall with the tides, and 480,000 sandblasted dots line the street, reminding us of the original shoreline. Constellations of glistening stars, referencing Matariki, are expressed in the stunning suspended lighting. And at the end of the lane there is a carved pou which sounds out a karanga at sunrise each day.
And further along the current shoreline, beside the Ferry Buildings in the new gorgeous outdoor Te Wānanga Plaza ( to be opened in August 2021) will be an offshore island habitat for kuku (green mussels) to help restore mauri and place.
Our ride finished in Takutai (sea coast or shoreline) Square on reclaimed land behind Britomart Rail Station, amongst "Pipi Beds,"another symbolic art creation, this one by Chaz Doherty, reflecting the shellfish beds that used to flourish on this shoreline.
A complimentary coffee and pastry at The Store, followed by our poroporoaki, ended an informative and emotional rediscovery of our early city waterways.
I was overcome by a deep sense of loss – so much of our heritage has gone for ever, too much to attempt to restore, but I was also uplifted by a sense of joy as a result of the imaginative art and design work which mana whenua and council are undertaking, to reference the Māori history, cultural perspectives and concerns that lie underneath the modern facade of our city.
Well worth taking time out to explore.
There is a booklet, "Te Paparahi, Toi Māori – walks in the city" available for free at the Auckland Art Gallery and other places – which celebrates Māori identity, history, knowledge and contemporary presence in the city. The booklet, showcasing 60 sites of Maori public art and design in the central city, is published by maoridesignauckland.nz
Ngā mihi nui ki ngā kaiārahi matatau o tēnei haerenga.