One of our big differences as a couple has always been our attitudes to exercise.
Tanya says: As someone blessed with relatively good health and fitness most of my life, I have been startled to realise that I can no longer take my physical skills for granted! I already have two bionic hips and one bionic knee, I'm definitely slowing down, and the one remaining natural knee which is arthritic does complain regularly, as does a sensitive gut – and, of course, there is always the ubiquitous forgetfulness!
I couldn't survive without daily exercise, especially now we're living in an apartment. I love variety – tai chi on the top deck on some mornings, an exercycle on our deck, exploring different parts of Auckland each weekend on my electric bike, picking salads in Kelmarna Gardens one morning a week, and swimming at the Tepid Baths each Monday morning with my older brother Garth. And I enjoy joining Charmaine on some of her neighbourhood walks…
Our Te Reo group continues to stimulate and challenge me – it's fantastic to gather weekly with like-minded pākehā and our pākehā kaiako, Kereama, to practice te reo and discuss the exciting current initiatives in te ao Maori .
I've also joined Bike Auckland- a stimulating social and political group, influencing the city's future transport planning. Quite the most effective lobby group around.!
Charmaine says: as an exercise phobic, who has avoided physical activities much of my life, I now find (nearly in my 80th year, as I like to point out) I need to walk daily or I'll seize up. Grey Lynn is lovely to walk in – especially in autumn as the leaves colour and fall. There are many signs of resident creativity- like these two on a near neighbour's garage door, and in their parking bay…
I did belong to the gym across the road pre-Covid, but felt no urge to go back because I'm inclined to cheat and only do the exercises I feel like indulging in. So I've taken a dramatic step and employed a personal trainer, a lovely mature woman who comes for an hour two mornings a week and challenges me to stretch more than my walking muscles, and to improve mind-body coordination. And all in the lounge and on the deck immediately above our apartment!
My mind is somewhat erratic at present, so I keep careful notes in my desktop diary, carry a small one when I go out, and (usually!) remember to transfer entries between them. We've also set up a whiteboard in the kitchen for daily reminders of our activities and commitments. I am still an eager library frequenter and reader, and mostly can remember what I've read for a week or two (longer, if it's especially good, and I've written notes about it in my reading notebook…)
And as I noted in a previous newsletter, I have joined the Ponsonby U3A , and one of its Writing Groups, in the hope I will be stimulated to continue some creative writing, autobiographical and otherwise, for a few years yet.
Together: we both continue to enjoy a variety of events in the city- lectures, theatre , music, films, and some radio/TV programmes, especially Maori initiatives, and many of Kim Hill's Saturday morning interviews.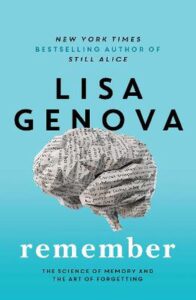 Recently (RNZ National Programme, Saturday 10 April) Kim interviewed Lisa Genova, an American neuroscientist and author, who published in March 2012 a very interesting book, Remember: The Science of Memory and the Art of Forgetting – on the intricacies of how we remember, why and what we forget, and what we can do to protect our memories. "Forgetting is part of being human", she said- and she highlighted the clear distinction between normal forgetting- names, and one-off items – and forgetfulness due to Alzheimers. A useful quote from a review of her book, "Genova blends popular science and self-help for the lay reader- friendly descriptions of the function of memory, and sharing tips for better memory. " Very comforting and useful information for those of us who are ageing!! We look forward to reading the book.
And of course we continue to love, and be stimulated by, the company of children. We've just been entertained and educated by Tanya's lively 9-year-old great-niece, Ellie, who delighted in the 'Toi Tu, Toi Ora' Māori art exhibition, helped make delicious buckwheat pancakes for breakfast , encouraged us to take our drinks and nibbles up onto the top deck to watch the sunset, and challenged us to interpret her mimes.
And soon our 11 year old Japanese friend, Taiga, from Earthsong will arrive with his very different passions and outlook on life!