This rollercoaster ride of ageing continues for us in unexpected ways…both opportunities and challenges!
Thank you to all the friends who sent feedback on our April Newletter- the most we've ever received in the 7 years of writing each month.. It was very uplifting for us.
The good news is that we have signed up for a brand new independent apartment at Selwyn Village in Point Chevalier (just 10 minutes from where we live now). It is due to be finished in November 2021- and the apartment we have chosen is on the top floor (3rd floor up) in the north-west corner of Caswell Block, (see the red spot on the roof of the left-hand block below!) on the coast overlooking the Waitemata Harbour with the Waitakere Ranges on the horizon. A small 3-minute track below the building leads down to a sandy swimming beach and the Point Chevalier Coastal walkway.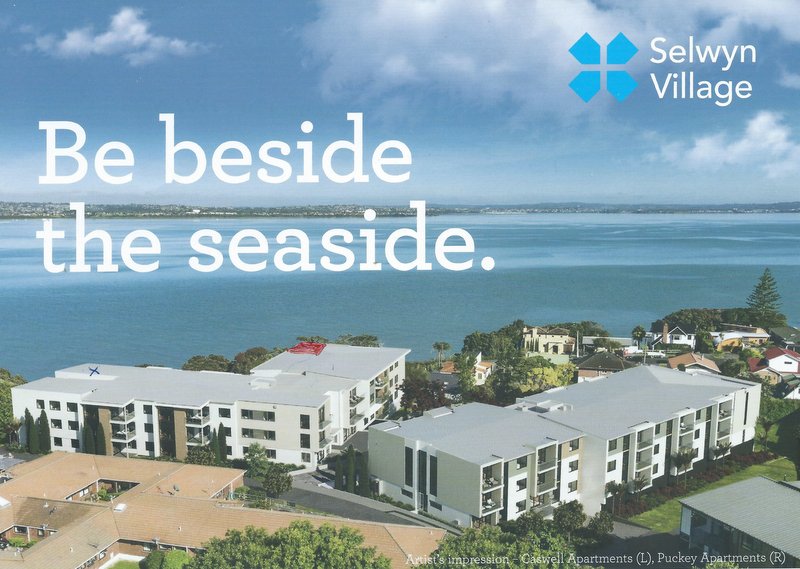 It was a lucky find for us- we went in one morning to tell the sales staff we wouldn't be buying at this time (having not found anything that really appealed..) and were told that the woman who had put a deposit on one of the best apartments in the new Caswell block had changed her mind and pulled out, and would we be interested in this lovely apartment – a little bigger than where we are at present, with two bedrooms and an area for a study, and more storage options in laundry and bathroom – and, of course, no passing traffic. So we took it on the spot, paid a deposit that afternoon, and saw our lawyer the next day to begin the Licence to Occupy process.
The Selwyn Foundation has an excellent reputation for quality care for those over 60, both for those in this village- around 600 residents – those in a couple of other Auckland facilites , and community action and support groups throughout the city.
(Charmaine has an odd connection to the Village- as Head Prefect at Epsom Girls' Grammar School in 1959, she and her deputy were taken by the Headmistress, Miss Marjorie Adams, to the laying of the foundation stone for the chapel at Selwyn Village, and met dignitaries like the then Governor-General and an Archbishop there…)
It's a bit of a shock for us to think of ourselves, a lively, active couple, moving into a retirement village- but we are working through our ageism and recognising both the benefits of being in this lovely independent unit (with no traffic noise and sea views!), but also with access to a wide range of support services if and when we need them. And we also know a dozen lively feminist and lesbian women who live there, so we look forward to a good social time too!