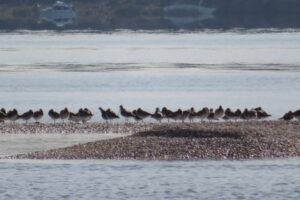 We both continue to enjoy walks most days, and Tanya loves bike rides too.
Recently we especially enjoyed a stroll around the coastline of the Te Atatu Peninsula for views of the kuaka- godwits, who have recently arrived from their 12,000km flights back from Siberia.
We are also looking forward to having our shaggy manes cut by our loyal hairdresser, Eddi, when some more Covid restrictions are lifted.
Even the dogs of Te Atatu look better groomed than us!

Along with the rest of Aotearoa, we hope for and work towards a more vaxxed, relaxed and open summer.